By Shamika N. Sirimanne, Director, Technology and Logistics Department, and Clovis Freire, UNCTAD Economic Officer
If you've followed the financial news, you may have seen the value of a Bitcoin rocket from around $ 11,000 in October 2020 to over $ 62,000 in April 2021, before falling below $ 32,000 two months later.
If you feel lost trying to understand these price movements, you are not alone. Most people – including government officials – struggle to understand the technology behind Bitcoin (blockchain) and how it can affect our lives.
How should governments deal with this technology? And how could they use its potential to advance national development priorities and achieve the Sustainable Development Goals (SDGs)?
Figure 1: Changes in Bitcoin prices, May 2016 – March 2021
Source: Authors based on data from Investing.com.
Beyond Bitcoin
Blockchain was invented to create Bitcoin, but can now store computer code and "smart contracts". The technology offers the opportunity to innovate in virtually any area, but the main uses right now are cryptocurrencies and decentralized financial (DeFi) applications, which use blockchain-based smart contracts to implement financial instruments.
According to Coinmarketcap.com, there were over 5,000 cryptocurrencies as of June 2021 with a total market capitalization of over $ 1.4 trillion. The top 10 DeFi tokens had a market cap of $ 51 billion.
At its annual meeting in May 2021, the UN Commission for Science and Technology for Development (CSTD) paid special attention to the importance of blockchain in the real economy with a view to the areas of trade, logistics and supply chains. Following discussions at the CSTD, UNCTAD recently published a report on how blockchain can be used for sustainable development.
Like any technology, blockchain can contribute to the SDGs in a number of ways – from providing food vouchers in refugee camps, to improving property and land registers, to improving access to national identification. So far, however, blockchain innovation has mainly focused on speculative gains on crypto-financial assets rather than creating real value through new products and services.
This is a recipe for financial bubbles and bursting.
The blockchain technology wave is blocking
Blockchain is potentially a key technology in a new technological paradigm of increasing automation and the integration of physical and virtual worlds. Their effects go beyond the economy as they can transform social interaction, public institutions and our relationship with the environment, and can influence countries' options for sustainable development.
Based on the adoption of a new technological paradigm, blockchain is in the installation phase of a technological revolution – dominated by radical innovations (led by suppliers), experiments, new technological solutions, many standards and competing technical specifications.
During the installation phase, the financial sector, which provides entrepreneurs with the funding they need to innovate, also learns about the new technology and its opportunities for financial gain. The high pace of innovation and insufficient knowledge of the true potential of the new technology are creating an investment frenzy.
As a result, there is a tendency towards speculation and, with the gradual decoupling of the real economy and the financial sector, "money-making" systems emerge.
The end of the installation phase is prone to financial bubbles. It's too early to say if we are seeing bubble-like price movements in Bitcoin and other crypto assets, but the way blockchain innovation is self-funding could accelerate that process and create a number of installation, crisis and and deployment phases cause innovation in particular for blockchain.
Figure 2: The evolution of the blockchain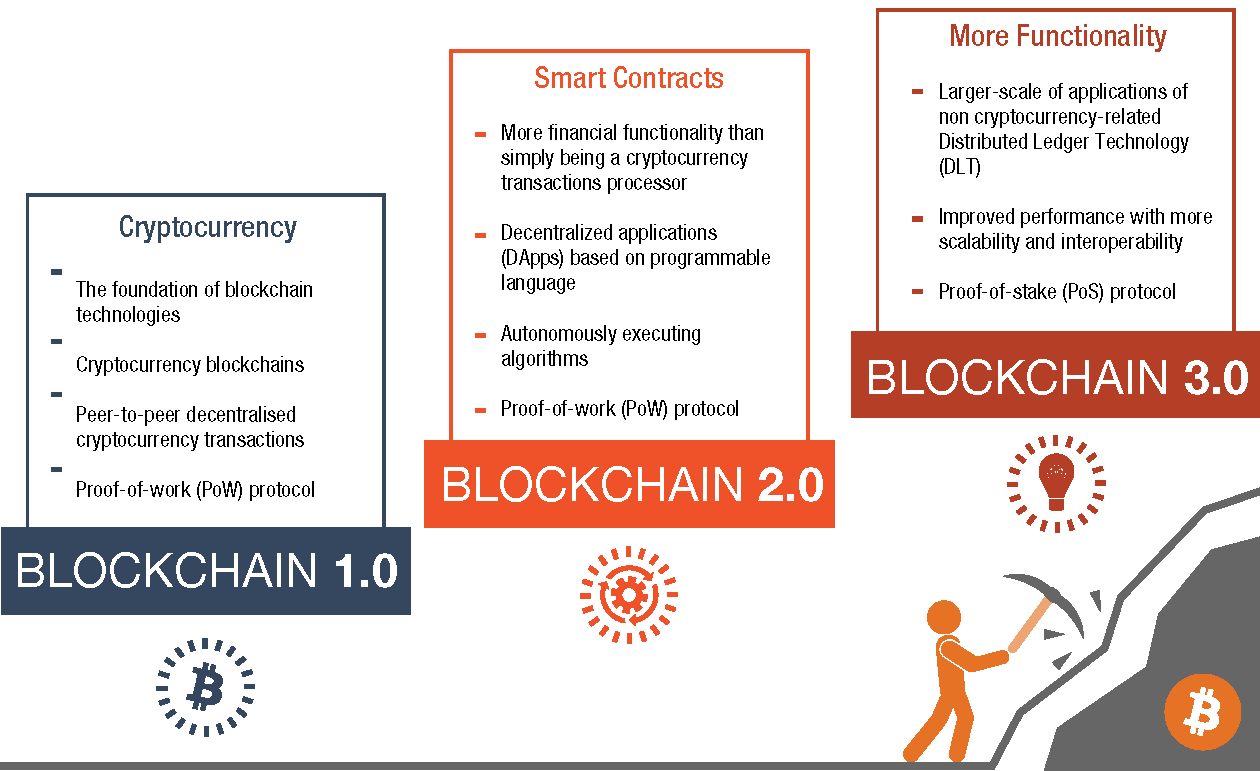 Source: UNCTAD
If those affected are primarily the innovators and venture capitalists in the blockchain ecosystem, the boom-and-bust cycle may not cause enough pain to make the institutional changes necessary. But with the public interest in crypto assets increasing, we may hear stories of small, everyday investors who lost all of their savings in the recent bankruptcy.
Unfortunately, only after many such cases will it likely be necessary to initiate an institutional change in laws and regulations to address the risks.
A window of opportunity
Similar moments in past technological revolutions have provided opportunities for some developing countries to catch up and for others to move forward. Blockchain can also provide an opportunity for developing countries to strategically diversify their economies into sectors associated with the new paradigm.
Catching up would increase real incomes and public finances and help accelerate progress towards the SDGs.
Building national capacities
Governments should strengthen their innovation systems to strategically position themselves to benefit from this new wave of technology. For most developing countries, this will require improving their digital infrastructure, skills and legal framework.
The promotion of pilot projects could boost the spread of the blockchain. For example, UNCTAD's ASYCUDA customs modernization program would like to use blockchain technology to improve its systems. The blockchain knowledge and skills developed through this initiative could be transferred to other sectors in the more than 100 countries in which ASYCUDA operates.
Blockchain regulations require a concerted effort to establish and enforce rules. The challenge for developing countries is twofold.
First, they should consider increasing their participation in international initiatives developing regulatory frameworks for blockchains in order to learn from the processes. Second, at the same time, they should develop their own national skills to develop and enforce blockchain regulations.
Close cooperation with the private sector is critical to success. A whole-of-government approach is also required, with ICT, finance, trade, and science, technology and innovation ministries working with central banks and regulators.